Case study: 'Worldstream has the Same Entrepreneurial, Opportunity Seeking Spirit as DAEL Group'
press
Tuesday, May 11, 2021
DAEL Group, an international electrotechnical and telecommunications company with more than 300 employees working in several divisions from various country offices in Europe, has selected IaaS provider Worldstream to deliver data center services from its flagship data center in Naaldwijk, the Netherlands. "It is a pleasure working with Worldstream. Like us, they are constantly looking for new opportunities in the market in an innovative manner," said Jeroen van Leeuwen, Managing Director van DAEL Group.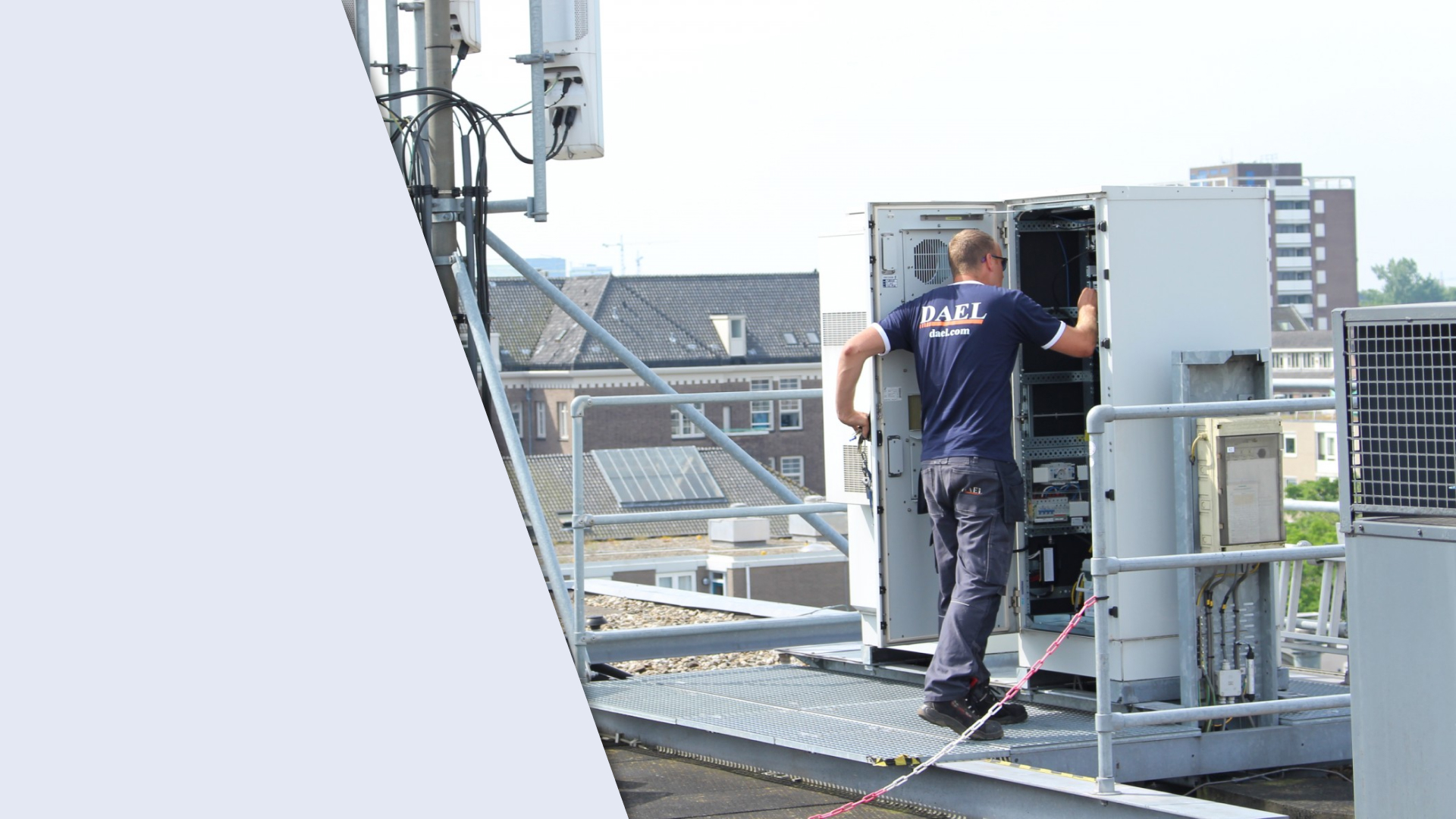 DAEL Group has a server room of its own, located in DAEL's headquarters in Maasdijk, not far from the Worldstream flagship data center. To keep pace with the extensive growth of its end-to-end AI-based smart camera surveillance solutions that are centrally managed from DAEL's own NOC and delivered throughout the Netherlands, DAEL Group was looking for a third-party company able to provide reliable and secure data center services for storage and backup.
Worldstream has provided DAEL with a custom offering which includes a presence in Worldstream's highly energy-efficient data center, as well as ample room to grow, and the ability to install satellite dishes in a 60-meter high mast right next to the data center. A dedicated, point-to-point 10 Gigabit radio link now connects the Worldstream facility with DAEL's headquarters at about 6KM distance. In the same 'Westland' region in the Netherlands, close to the cities of Rotterdam and The Hague.
The Organization
For years, DAEL Group is providing well-known (mobile) telecom providers with services to expand and maintain their networks, but there is more. With offices located in the Netherlands, Great Britain and Scotland, DAEL Group delivers its services on a global scale. Its operations now consist of six independently operating subsidiaries: DAEL Data & Electro, DAEL Telecom, DAEL Telecom UK, DAEL Power, DAEL Security and DAEL Connectivity. These companies operate on the cutting edge of technology and innovation, each within its own field of expertise.
DAEL's newest division DAEL Connectivity is the ideal partner for custom-made connectivity solutions. As part of the DAEL Group, it can offer a complete portfolio of services: high-speed point-to-point connections, private LTE, mesh networks as well as all different kinds of streaming solutions used for sport-broadcasting and events. DAEL Connectivity is able to cleverly combine techniques and take care of reliable connectivity. As the solutions offered are fully transparent and scalable, their customers are still 'in control'.
The Challenge
For thousands of camera surveillance solutions located throughout the Netherlands, DAEL Connectivity provides end-to-end (wireless) AI-based smart camera surveillance. Until the end of 2019, DAEL had stored all smart camera surveillance data including backups in its in-house operated server room. To further enhance data security while adding scalability for camera surveillance management and data storage, DAEL has selected Worldstream's flagship data center in Naaldwijk, the Netherlands and established a satellite-based 10 Gigabit radio link in a 60-meter high mast which connects the data center through a point-to-point telecommunications connection with DAEL's headquarters.
"It's great to have this enterprise-class data center of Worldstream nearby, at a distance of just 6 kilometers, but we could have selected data centers in Amsterdam, Rotterdam or Delft as well if the other data center services propositions would have been better," said Jeroen van Leeuwen, Managing Director of DAEL Group. "Worldstream provides us with a highly customized solution through which we can flexibly meet the managed hosted camera surveillance requirements of our clients. We are connecting new smart camera surveillance solutions throughout the Netherlands at a speed of hundreds of camera surveillance solutions per year. The Worldstream flagship data center and their strategic plans to add new high-capacity facilities will definitely add to our further growth. It will safeguard our ability to safely store high volumes of data for our expanding operations."
Point-to-Point Radio Transmission
DAEL Connectivity is able to achieve ultra-low latency figures with negligible delay through the use of satellite dishes and point-to-point radio transmission between Worldstream's data center and its headquarters. The company also manages to deploy low latency radio link transmission across long distances. For that purpose, DAEL Connectivity offers fixed and mobile radio mast solutions.
For the Royal Netherlands Army, DAEL Connectivity has deployed low latency, radio mast-based wireless networks in Afghanistan for example, interconnecting military camps and other resources on the ground. In the UK, DAEL also provides their radio transmission technology and solutions to world-known events like the Wimbledon tennis tournament, Formula 1 races at Silverstone, Glastonbury Festival, and London New Year's Eve Fireworks show. But one of the most prestigious projects with regard to low latency achievements would probably be the radio transmission-based financial trading connectivity which DAEL has deployed between the financial centers of London, Frankfurt and Paris.
Ultra-Low Latency, At Light-Speed
"Many people don't know the power of point-to-point radio transmission. If executed right, it actually provides ultra-low latency connections at the speed of light, far better than optical fiber and also at relatively long distances," added Mr. Van Leeuwen. "Our customers in the Westland area in the Netherlands already benefit from this 60-meter high mast with radio transmission-based connectivity as well, providing them the ability to have their premises easily being connected with the Worldstream data center. Also, because there are no entry costs as with optic fiber, you just have the investment of installation only."
The satellite dishes in the mast installed by DAEL Connectivity, right next to the Worldstream data center, allow organizations in the region, from SMBs to enterprises, to deploy dedicated 10 Gigabit radio links between the data center and their premises. This opens up new opportunities for these organizations in the 'Westland' area, as they get easy access to Worldstream's highly secured and compliant data center environment, for the outsourcing of IT infrastructures or setting up backup data center locations.
Worldstream Elastic Network (WEN)
"Deploying fiber-optic cables underground can be quite expensive, time-consuming and sometimes even impossible," said Dirk Vromans, CTO and Co-Founder of Worldstream. "DAEL's ultra-low latency connectivity option through the air gives organizations in the Westland area great new options. Especially as we have a new solution available called Worldstream Elastic Network, a software-defined network with extensive IT infrastructure functionality built on top of our 10Tbps global backbone and available from our flagship data center."
"This Worldstream Elastic Network provides SMBs with easy and low-cost access to highly flexible and enterprise-level IT features, such as bare metal servers, hypervisors, VMs, firewalls, storage, private cloud, you name it, as well as seamless access to multiple top cloud providers," added Mr. Vromans. "I think this partnership between Worldstream and DAEL opens up immense opportunities for companies in the region and beyond, removing the barriers impeding digital transformation objectives and hybrid cloud adoption. Not at least because DAEL is able to extend their radio transmission reach throughout the Netherlands by the use of their fixed and mobile radio mast solutions."
"Worldstream is a great company to work with," added Mr. Van Leeuwen. "They have an entrepreneurial mindset. Just as us, they are always seeking for new opportunities in the market and merging ideas into new possibilities. They also have a very personal approach, which we actually missed with other data center services providers we considered."
Client Request DAEL Group
Colocation services for data storage and backup of end-to-end AI-based smart camera surveillance solutions;
Possibility to install satellite dishes in a 60-meter high mast nearby the data center;
Ability to deploy point-to-point 10 Gigabit radio links at the lowest latency;
Ample room to grow DAEL's data center space and data storage capacity;
A secure, reliable and financially stable data center services provider.
Solution Delivered by Worldstream
Worldstream provides DAEL Group with a custom offering including colocation rackspace in their Naaldwijk, the Netherlands-based flagship data center with impressive energy-efficiency figures. This facility, operating under sister brand name Greenhouse Datacenters, provides DAEL with a Power Usage Effectiveness (PUE) value of 1.15, one of the lowest energy-efficiency ratios in the global industry.
DAEL Connectivity has also been able to install satellite dishes in their newly deployed 60-meter high mast right next to the data center, with point-to-point 10 Gigabit radio links, interconnecting DAEL's Headquarters and its server room with the data center at the speed of light. The Worldstream data center services give DAEL the ability to safely store high volumes of smart camera surveillance data on a daily basis. Worldstream's available data center space and its strategic plans for further expansion allow DAEL to safeguard their future needs when it comes to expanding operations. Next to that, it opens new business opportunities for DAEL (and Worldstream), as it may provide other companies in the Westland area with radio transmission-based connections and easy access to the Worldstream data center as well.