Flexible IT solutions to power your IT infrastructure
As an IT organization you want to keep up with ever-evolving business requirements. So you can continue providing the latest services to your customers. This is only possible when your IT services are flexible. Worldstream's scalable IT solutions empower your IT infrastructure to take on any challenges that you might have. Together we can future-proof the infrastructure of your customers. See all possible IT solutions below and connect to our IaaS experts to discuss all possibilities.

Private Cloud

WEN-enabled

Our Private Cloud is a VMware virtualized environment. Combined with a FortiGate firewall and high-performance redundant iSCSI SAN all-flash storage.

Bare Metal / Dedicated Servers

WEN-enabled

Deploy dedicated servers in company-owned data centers in the Netherlands or at European locations, such as Frankfurt. With fully configurable network options and hardware components.

Cluster-as-a-Service

WEN-enabled

Effortlessly build and manage your own virtualization cluster, with the hypervisor of your choice. Further customize your cluster through Worldstream Elastic Network, seamlessly scale out at any time and to multiple locations within the same network or add any of our other solutions.

Block Storage-as-a-Service

WEN-enabled

The reliable solution for storing large amounts of data, whilst also being fast and secure. Raw storage for high-performance and I/O intensive workloads.
Object Storage-as-a-Service

WEN-enabled

The storage solution for archiving unstructured files. For when data needs to be easily retrievable while remaining highly resilient.

Firewall-as-a-Service

WEN-enabled

Protect your applications, services, and files with our virtualized FortiGate firewall that can be setup to protect your environment in an optimal fashion.

Cloud On-Ramp

WEN-enabled

Already have an active Cloud solution? Make a direct link to well-known public cloud providers, such as Microsoft Azure, AWS, and Google Cloud.

Colocation

WEN-enabled

Colocate your IT infrastructure in our highly secure and compliant data centers. With certified engineers on-site, 24/7/365.
Anti-DDoS

WEN-enabled

Backed by Worldstream's massive 10 Tbit/s high bandwidth network, this innovative in-house developed DDoS mitigation solution protects your business against high volume DDoS attacks.

Multi-Location

WEN-enabled

Rather have your IT infrastructure at more than one physical geographical location? We offer our IT-solutions across multiple locations across Europe, namely a PoP location in Frankfurt.

3rd Party Data Center

WEN-enabled

Make cross-connections to a wide range of data centers possible. For optimal scalability of your business ventures.

Fiber to the Business

WEN-enabled

If you want to use Worldstream's services at any location in the Netherlands, get a direct connection with Fiber to the Business.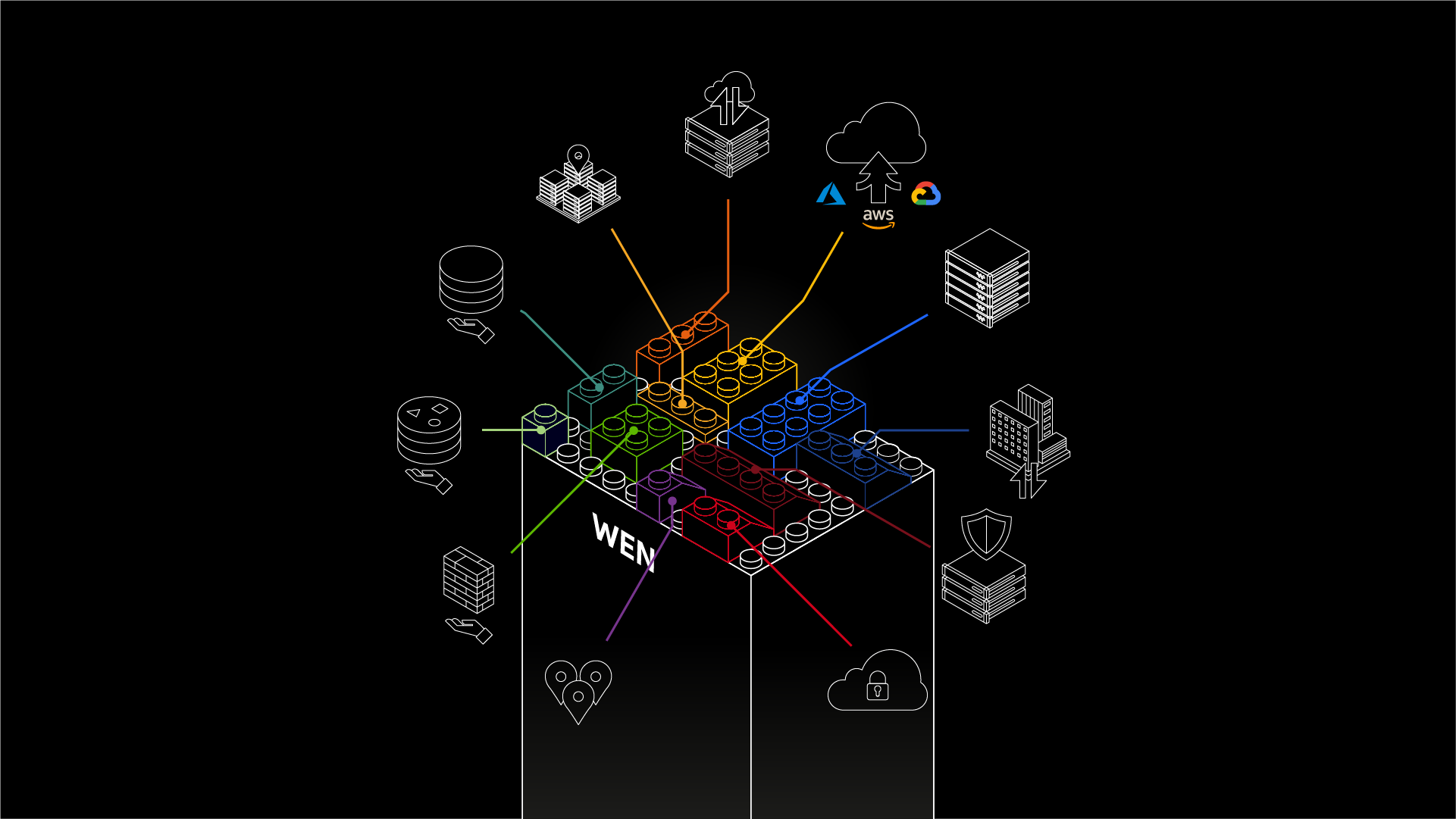 Connect your IT solutions with Worldstream Elastic Network (WEN)
The platform for deploying, connecting, and scaling IT resources.
With the scalable WEN services and interconnection platform, you can effortlessly link all Worldstream solutions via logical connections between your own VLANs and network ports. Thanks to dynamically linked hardware, networks, IT resources and locations, workloads can be migrated in real-time. All without having to setup physical connections.
Worldstream safeguards our ability to safely store high volumes of data for our expanding global operations.